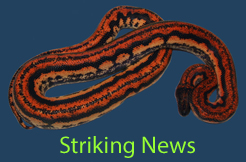 Site last updated
04/12/2019


CANDY STRIPE BRB's -Now TWO litters produced from the same pairing. BOTH with Super Candy Stripe babies!!
Click here for details/pics
ALBINO BRB's -07/14/2016 Bianca delivered an amazing litter with 3.4 Albinos and 5.7 het Albinos. All healthy full term babies.
Click here for details/pics
Click HERE to see available babies.
04/09/2019 - Updated BRB Breedings page with activity so far.
03/05/2019 - Pamela delivered a small litter of 6 baby BCI. a mix of Motley and Salmon all 50% het Anery
Click HERE to see available babies.
02/25/2019 - SURPRISE, Hershey delivered a litter of 15 baby BCI, Motley and normals with Pastel from both sides. I did not know she was gravid and her only shed during the breeding season would place babies due early April.
Click HERE to see available babies.
05/13/2018 - First BCI litter of 2018, a cool litter from TH Motley Snow x DH Snow. All eight possible phenotypes are in the litter, Motley Snow, Snow, Albino Motley, Albino, Anery Motley, Anery, Motley and normal. 24 total babies and almost dead on odds for each phenotype.
Contact me for availability.
Click HERE to see available babies.
06/06/2017 Dee delivered a nice litter of 25 healthy babies, a nice mix of Hypo and Cyclone genetics in the pile.
Click HERE to see available babies.
05/30/2017 - Mariah delivered a sweet litter of 19 babies with an assortment of Motley, Hypo, Jungle and Monster Tail genes mixed into every baby.
Click HERE to see available babies.
02/16/2015 - Male Hypo Het Albino Colombian Rainbow boa from Finland available for sale.
Click HERE to see available babies.
Our main objectives are to ensure that we supply only high quality animals and unparalleled customer satisfaction.

Contact us at:
Rainbowsrus@sbcglobal.net
408-224-0414

Like is on Facebook -
www.facebook.com/Rainbows-r-us-reptiles-114675408595751


Ordering - This site intentionally does not have any "buy it now" or shopping cart features. Please contact us directly at rainbowsrus@sbcglobal.net
or 408-224-0414 to purchase any of our animals.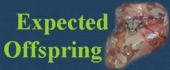 Brazilian Rainbow Boa pairings for 2018 are now up on the BRB breedings page. I introduced the males on January 11th and within the first couple of days I witnessed several wraps and one copulation. Great start to the 2018 BRB season.
Check out the Brazilian Rainbow Boa Breedings page for details.
Boa Constrictor Imperator breeding season for 2018 is under way, please check out the BCI breedings page for details
Check out the Boa Constrictor Imperator Breedings page for details.
Upcoming reptile shows:
March 23rd & 24th
Tulare Reptile Show
Tulare Fairgrounds
620 S K Street
Tulare, CA 93274
May 18th & 19th
Norcal Reptile Expo
Alameda County Fairgrounds
4501 Pleasanton Ave.
Pleasanton, CA 94566
June 1st & 2nd
Central Valley Reptile Expo
Fresno Fairgrounds
1121 S. Chance Drive
Fresno, CA 93702
August 3rd & 4th
Santa Clara County Fair
Santa Clara County Fairgrounds
344 Tully Road
San Jose, CA 95111
August 24th & 25th
San Jose Reptile Show
Santa Clara County Fair
344 Tully Road
San Jose, CA 95111
September 28th & 29th
Sacramento Reptile Show
Cal Expo
1600 Exposition Blvd
Sacramento, CA 95815
October 19th & 20th
NBHS Reptile Show
Santa Rosa Fairgrounds
1350 Bennett Valley Road
Santa Rosa, CA 954o4